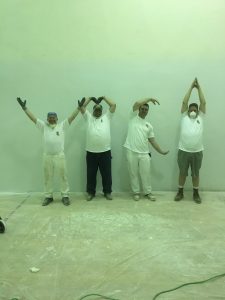 The P.A.T.C.H. fund (Painters and Allied Trades for Childrens Hope) is near and dear to our hearts here at District Council 6.  The main reason is that P.A.T.C.H. is one of the main ways we give back to the community.
This fund's focus is on children and families.   The YMCA shares this focus.  That is why we help them how ever we can.  This past April volunteers from our council completed a service project at the Riverfront YMCA in Cuyahoga Falls, OH.  The gymnasium that is used for many activities, was in dire need of a paint job, and the racquetball court walls were starting to crumble.  After a few afternoons and one Saturday and some gracious donations from our signatory contractors, our member gave both rooms a fresh new look.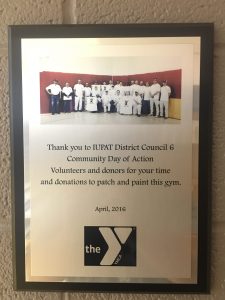 "Seeing the plaques outside the gym and racquetball courts that say "Thank You IUPAT District Council 6″ when I'm there with my family brings a tear to my eye.  I'm so proud to be a member and so proud to have so many caring brothers and sisters in the trade."
Justin Oshel – Drywall Finisher, Local 841, and Riverfront YMCA member


100% of all monetary donation P.A.T.C.H.  makes to the YMCA annual fundraising campaign goes directly to families in need.  This money assists families in gaining membership to the YMCA that would otherwise not be able to afford it.  This gives them the ability to use services that the YMCA provides such as child care, swimming lessons, gymnastics, workout areas, fitness classes, etc.
Membership at the YMCA is about improving your MIND, BODY, and SPIRIT.  We feel if a family in need and get these three things improved, they will have a much better chance at overcoming the hardships and roadblocks in there life.
Below are some success stories from the Riverfront YMCA.  Check them out.  Also to check for a YMCA in your area or to find out how you can help with their mission, go to http://www.ymca.net/find-your-y/ or contact the council at
[email protected]
Zoey Blosser
Shelbi Lindesmith – Youth Development – Riverfront
Nicol Family – Healthy LIving – Riverfront
Mike Rienzi – Riverfront – Healthy Living
Kristy Cino – Riverfront – Healthy Living
Garrett Fleming – Riverfront – Healthly Living
Anna Foss – Social Responsibility-Riverfront