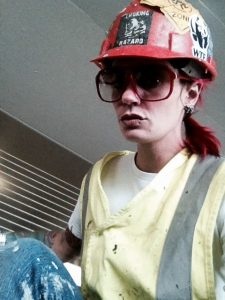 Back in 2012, most people had given up on me in fact, I had given up on myself. I struggled with addiction, I was a convicted felon, and I learned I was going to be a mother. With my past, who would hire me? How would I be able to support myself and someone else? I knew I had to turn my life around for my daughter's sake, and for my own.
It wasn't easy. I started doing commercial painting as an independent contractor, and I made decent money. It wasn't a steady paycheck, and I didn't have health insurance benefits. I didn't know where my next job was coming from. But I stayed sober, and I worked hard – and then I got the break of a lifetime, a chance to join the International Union of Painters and Allied Trades (IUPAT).
You wouldn't think that a bunch of Union guys wouldn't take a chance on someone like me, but it turns out they have helped many people like me – men and women turn their life around. When I first met with my representative and I told them about my struggles with addiction, they said that everyone has a past, and welcomed me into the organization. I'll never forget that moment, I thought it was too good to be true. I met many mentors and teachers in the weeks and months after, and I will always be grateful for the future that IUPAT has given me.
Today, as I look at my life nearly 5 years sober and with my beautiful daughter Monroe, I am so grateful for the fact that I get a solid 40 hours of work a week, when many others I know are laid off or out of a job. I have an annuity, and a pension – I'll be able to retire someday. I can take my daughter to the doctor whenever she needs to go, and she can go to college one day if she wants to. My holiday shopping was done months ago, mostly because of overtime opportunities I had over the summer. I never dreamed that someone with my past would be able to live this kind of life.
When you hire and support union labor, please know that you are helping men and women like me have a chance to live the American dream. Men and women who are trained and certified to ensure our safety and the safety of the public who drinks the water from the tanks we seal and travels on the bridges we repair. You are hiring master craftsmen and women, who are not only held to a higher standard but create that standard for the rest of the industry. We care about our community because we are part of our community.
My name is Amanda Walsh, and I am a proud member of the International Union of Painters and Allied Trades.