Thank you for showing our brothers Hugo Mejia and Rodrigo Nuñez your support in the last two days by making calls, sending faxes, rallying, uplift both father's cases on social media and speaking to elected officials. As many of you know, both Hugo and Rodrigo had scheduled immigration court hearings today. Below are pictures of today's rally where many of our members and District Council staff were front and center.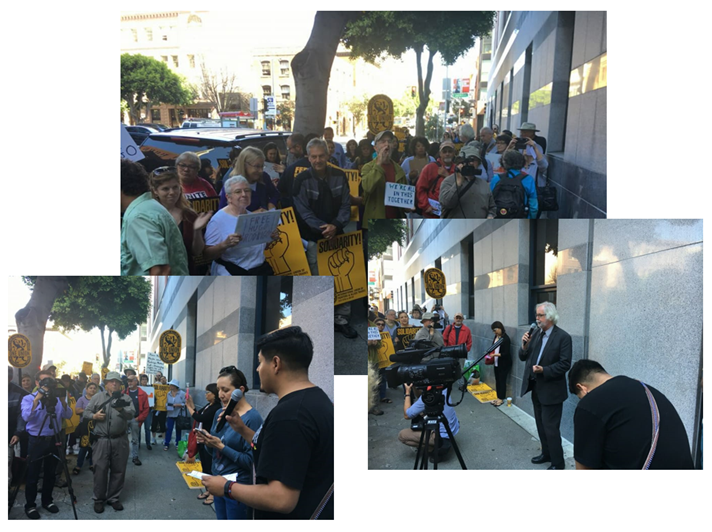 There is no doubt that our collective efforts have had an impact on Hugo and Rodrigo's cases. In fact, we know that in the next 48 hours additional information is being reviewed and considered in large part for all we've done so far. This will be a crucial period for us to keep the pressure going, so please take a few minutes to take the following actions.
We need your help to keep the momentum going in supporting Hugo, Rodrigo and their families!
For live updates on our efforts this week visit: Free Hugo & Free Rodrigo Week of Action Facebook page
June 21st is Big FAX Wednesday! Send a fax to ICE Enforcement and Removal Offices to (415) 844-5514 with attention to David Jennings. We have provided a formatted fax form with the graphic of the day, which you only need to fill your name in the blank CLICK HERE
Don't have a fax? Not a problem simply follow the these instructions:
–          STEP #1: Visit: www.Faxzero.com
–          STEP #2: Fill in the blanks
For Sender Information(on the left) fill in your name (you do not have to include your full name), email and phone number
For Receiver Information (on the right) fill in

Name: ICE Field Director David Jennings
Company: Enforcement and Removal Officer
Fax: (415) 844-5514
–          STEP #3: Upload your fax form
In Fax InformationClick on browser

Upload the Fax form (you will know it's uploaded when you see a green check mark next to the title of your document)
ENTER CONFIRMATION CODE – you will be prompted to include the 5-digit confirmation code at the bottom of this section.
–          STEP #4: Hit the "Send Free Fax Now" button
You will receive a confirmation email. It will prompt you to click on a link in order to actually send your fax.
Let's keep those calls going! Call San Francisco's ICE Field Office Director David Jennings!

For more information on our efforts with this case, visit our website: www.freehugo.org.