Last month, IUPAT member Hugo Mejia (IUPAT Local Union 83) and UBC member Rodrigo Nunez (UBC Local 68) were detained on their way to work in northern California.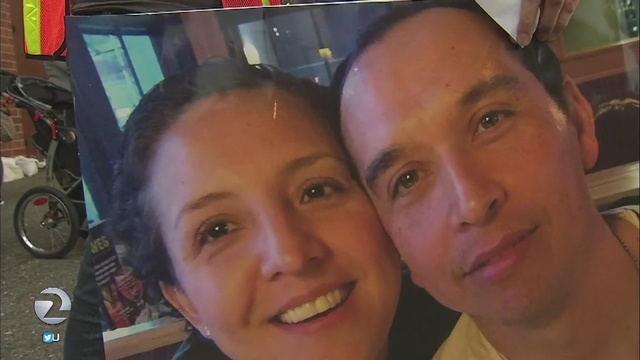 Hugo Mejia has been an IUPAT member for over a decade and has lived in the USA for over 15 years. He has no record, and his wife and children are all US citizens.
Both were working on a construction project at a hospital located inside of Travis Air Force base. When they gave their identification at the entrance, the base turned them over to ICE. Both were detained, and have been held in custody for 30+ days with no due process. What is happening to them is happening all over the country.
In a rally yesterday, protesters chanted, "Free Rodrigo Now" and "What do we want?  Justice! When do we want it?  Now!" Most were members of District Council 16, who gathered in front of ICE's San Francisco location yesterday to protest the detainment of one of its members and a member of another local union, Carpenters Local 68.
Prior to their detainment, Hugo and Rodrigo were both long-term union workers and active community members.  Mejía, who lives in San Rafael, worked as a drywall finisher with Painters Local 83, a local union group that is now a part of the Painter's District Council 16.  He was also a father of three children and an active member of his church.
Nuñez, a resident of Hayward, has lived in the United States for more than 15 years, now with three young children. Nuñez was an assistant coach for his son's baseball team, volunteered for his local church, and worked in drywall as a member of Carpenter Local 68.
Ever since their detainment, District Council 16 has not received any communication from ICE regarding the status of Nuñez and Mejía. Currently, the only information District Council 16 has is that Hugo is detained in Sacramento and Rodrigo is detained in Yuba.
Worrying that the two may be deported without getting their case heard in front of a judge, District Council 16 members and community leaders rallied to demand Rodrigo and Hugo's immediate release and a stay of their deportation.
The protest had roughly 200 people in attendance for the event, including District 2 Supervisor Mark Farrell, who came to voice his support. Madison Hull, District Council 16's political and communication director, said in a statement: "We just want them, Hugo and Rodrigo, released immediately and we want a fair and due process.  To be taken away from their families for 30 days in inhumane."